Franco-American Writers-Composers
---
Writers being researched and to be added later on to the main list
Adelard (Del) Huot - Composer
Louise Dubrule - writes for Késsinnimek - Roots - Racines
Sheila Hébert Collins - Cajun writer - website - biography on Pelican
Sheila Hébert-Collins was born in Abbeville, Louisiana, the heart of Cajun country. She was what you'd call an authentic Cajun, since both her mother and father's lineage traced back to Acadia in Canada. Sheila grew up proud of her Cajun culture. Teaching the lower grades for twenty years instilled a love for children's literature. That passion for children's literature, combined with her Cajun pride, motivated her to rewrite cherished fairy tales with a Cajun twist. These fairy tales were designed to teach younger children French, as well as to develop Cajun pride.
Sheila Hébert-Collins didn't start her writing career until she retired from teaching in Louisiana in 1989. In late 1993, her first Cajun fairy tale was published: Jolie Blonde and the Three Héberts, a Cajun Goldilocks and the Three Bears. By 1996 she had four books published and had visited over 120 schools in Louisiana and many public libraries, reading her Cajun fairy tales and promoting cultural pride.
Sheila Hébert-Collins' name appears in the Louisiana State Artist Roster as an author and Cajun storyteller. She has made presentations for the Louisiana Reading Association's local and state conventions. She has also made presentations for the Florida Association of Media Educators, Lee County Reading Festival, and Florida Gulf Coast University.
In 1999, Sheila Hébert-Collins became a school librarian, working on certification at the same time. In 2000, she was certified in library science. In 2002, Hébert-Collins was hired as a media specialist at Manatee Elementary in Collier County. During that year, her sixth fairy tale was published. Working in such a diversified school has given her more cultures to learn about and, more than ever, more reasons to promote cultural pride. She now lives in Naples, Florida, with her husband and daughter and continues to write and enjoy her work as a media specialist.
Mrs. Hébert-Collins is the author of Petite Rouge: A Cajun Twist to an Old Tale, Cendrillon: A Cajun Cinderella, Jolie Blonde and the Three Héberts: A Cajun Twist to an Old Tale, Les Trois Cochons, 'T Pousette et 'T Poulette: A Cajun Hansel and Gretel, Blanchette et les Sept Petits Cajuns: A Cajun Snow White, and Jean Paul Hébert Was There, all published by Pelican.
Jack Kerouac (1922 - 1969)
(20 books including On the Road)
Laurie Meunier-Graves

Born in Waterville, Maine, Laurie Meunier Graves is a writer and a reader who now lives in Winthrop. She has long been interested in her Franco-American roots, and in her writing, she often explores issues of class and culture. She and her husband, Clif Graves, publish Wolf Moon Press Journal, a magazine of art and opinion.

I have a love of words that goes beyond reading. Born and brought up in Ste-Anne-de-Madawaska, N.B. from a teacher-mother and a farmer-father, I had a happy childhood on the farm with many brothers and sisters. In class, my favorite poet was Victor Hugo, his poem Extase set me dreaming. I am a mother of a daughter and two sons, a grandmother of four granddaughters and a grandson, and a wonderful husband. We lived thirty years in Framingham, MA. where we brought up our family, with no French! I retired seven years ago and we came to Maine. I return to my French with a vengeance. We now reside in Camp Ellis on beautiful Saco Bay.
Fran Pelletier
Fran Pelletier is a rare and wonderful storyteller. He grew up in Milford, Maine, in the 1930s, confessed to all seven sins at his first confession (thinking you had to), proudly wore a "Lindbergh" suit Mama sewed from puce and orange wool (assuring him that aviators needed to be colorful), read aloud to his French-speaking grandfather at the local train station after school, learned about chewing tobacco the hard way, played an unfortunate role in the derailment and subsequent sinking of a Maine Central handcar, and generally thrived in the bosom of his extended Franco-American family. Dogs, trout, and pigs put in appearances; a spectacular mill fire lights the skies; death claims young friends; and Fran learns about life.

Pelletier remembers the details in a series of stories that beg to be read aloud and shared. Authentically small-town America, yet spiced by his French-Canadian heritage, these stories will resonate in communities throughout New England.

After graduating from the University of Maine, Pelletier had a career in the chemical coating business but his avocation has always been literature and words. He lives in New Harbor, Maine.
Tilbury House - Little Pine to King Spruce, A Franco-American Childhood
Bangor News review - September 13, 2004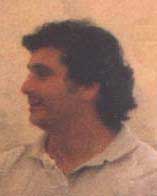 David Surette
(Malden Chapbook, Whisper the Past, Muckers, Grinders, Shapers, Hangers, Hackers, and Huns)
David R. Surette was born and raised in Malden, Massachusetts, attended the Immaculate Conception Grammar School, Beebe Junior High, and Malden High School. He earned his English degree at Colby College. He has taught in both the Waltham and East Bridgewater Public Schools. He is the author of three poetry chapbooks Malden and Muckers, Grinders, Hangers, Hackers, and Huns, and Good Shift and has placed poems in literary journals such as Peregrine, The South Boston Literary Gazette, and Button. He has featured in venues such at The Cantab in Cambridge, Massachusetts, home of The Boston Poetry Slam, and The Daily Grind in Bridgewater, Massachusetts, GASP in Onset, MA, and Borders at Downtown Crossing, Boston, and in schools and libraries. He is co-editor of Selected Poems from The Daily Grind and co-host of The Bridgewater Poetry Slam. His poem "Forever and Ever" was nominated for "Best Love Poem" by the Cambridge Poetry Awards 2003. David is also host of Poetribe a bi-monthy poetry series in Brockton, MA which includes an open mic, feature and slam.
Links
Email: davidsurette@davidsurette.com
Website: http://www.davidsurette.com/
Katherine Theriault

Theriault is a native of Lewiston, Maine where she attended a Holy Cross School and Lewiston High School before attending Colby College in Waterville. She graduated in 2002 with a B.A. in American Studies and high honors. Katherine taught 4th grade in Atlanta, Georgia, for a year before accepting a position at her alma mater, Colby College, where she currently works as the Assistant Director of the Farnham Writers' Center. She loves spending time with family and friends, traveling, and being outdoors. She writes for the FAWI Ezine - See article

Links

Linda Verville

Back to Top
---